Annnnnnnd… GAME!
I've declared TWO teams as the winners.

This team submitted coordinates first, but with no logs:
Hannah Marr, Kevin Mippington, Mikey Mikerson, and Flannab

This team submiited soon after, with comprehensive logs:
Bloocheese565, Batillion223, Zack Sutrich, and Fanathewanderer

You will both get a cool prize that I totally just came up with, but that is seriously cool, I swear. But you won't get it for a little while. I will be in touch with the person who e-mailed me the results from each team.

As for the rest of you, I encourage you to finish your quest! I would really appreciate logs of your communications, even if you don't finish.

Thanks so much for playing everybody! Keep an eye on my Facebook, Twitter, Tumblr, and website (http://wherecouldtom.be/) for updates!
I will leave the game up for a day or two, if anyone wants to mess around and explore. Stay tuned for when we'll play again.
GO GO GO
http://wherecouldtom.be/games/play/cquest/
No Seriously, How Does this Work
Ok, so let's say you and three of your friends are going to form a team and play Coordinate Quest with us TONIGHT AT 6 EST. You enthusiastically send out a call to arms via your favorite social networking service:
When the game goes live, each of you goes to the supplied URL to play the game in your browser. You load it up and find yourself plunked down somewhere inside a big, unknown land:
Meanwhile, on the Internets: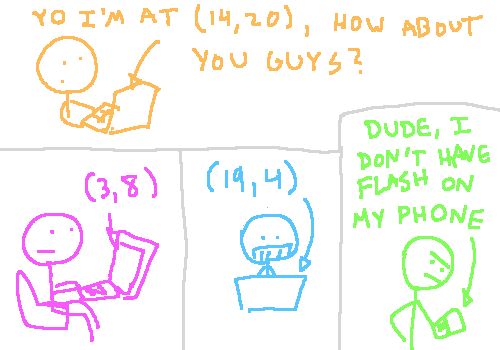 Then maybe you split tactically. You each take a different corner of the map to explore. Or maybe you just start walking around randomly… until!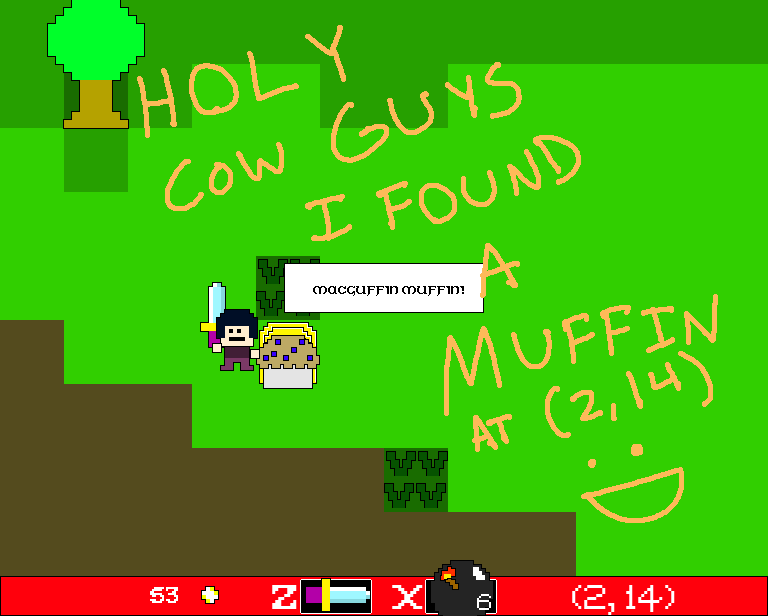 You tell your teammates, who do the same whenever they find a muffin. You compile a list. When you've found all of them, you e-mail this list to me. If you're the first team to give me all the correct coordinates, ETERNAL GLORY IS THINE.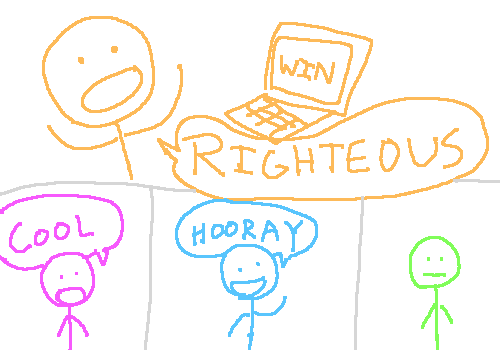 Of course, it's not merely a matter of walking around to find these muffins. There are obstacles - obstacles which can only be overcome by skill, cunning, and coordination. But to find out about all that, you'll just have to play!
What is this game???
Coordinate Quest is a game you play by yourself, with other people.
You will explore a world, in search of muffins. Macguffin Muffins - the tastiest and most important baked goods ever.
They are scattered across the land, and no single adventurer can find them alone.
So what you have to do is form a team. Get some allies together and have everybody play, explore, and share information.
The catch is that this game provides absolutely no support for such coordination! Each of you will be playing your own copy of the game, with no way to talk to each other or know what anyone else is doing. Why? Because you already have tools for that at your disposal!
To succeed, you'll need to utilize existing social networking and communication technologies. Organize, mobilize, and coordinate!
To win the game, one member of your team must e-mail me the coordinates of all the muffins hidden in the world. You only get one shot at this, so make sure you get 'em right!
We will play the first real round of Coordinate Quest this Wednesday, February 2nd. Keep an eye on this site for more information, and be sure to sign up on the Facebook event page.